Best ways to protect your rental property in Columbus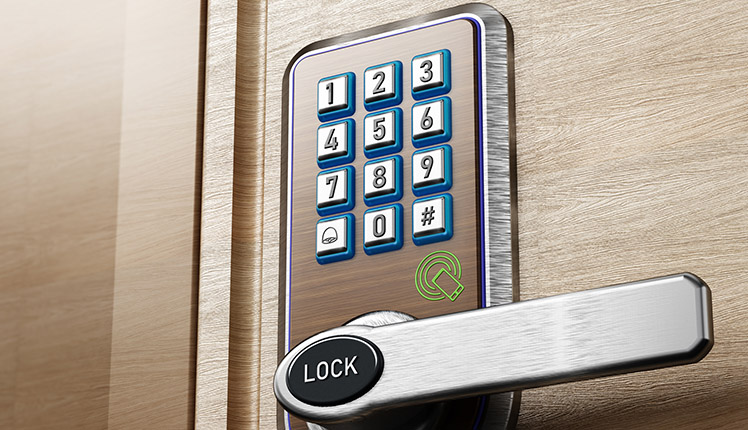 Irregardless of whether you rent out your family's cottage or you run an assortment of Airbnbs, you may find it challenging to protect your rental properties in Columbus. Unless you're stay on site, it's normal to wonder about keys getting copied or former visitors unexpectedly showing up. Not to mention, what would you do in the event of a flood or fire at the property while you're offsite?
From smart locks to comprehensive security with home automation, here are some top recommendations on how to protect your Airbnb in Columbus.
Smart locks stop key copies
When a renter checks out, they may follow your instructions and provide the keys for the next guest. However, if they took or copied a key, it would be possible to access your place again at a later time. Needless to say, you have the option to change the locks when a key goes missing, but that creates delays and cuts into your revenue.
Thankfully, you can use smart locks that function along with your home's security to counter these concerns. Then, you can provide each visitor their personalized access code. When your occupants leave, there's no reason to mess with the key exchange. All you need to do is program the codes to expire when they vacate the property. If former occupants return and try their prior entry code on the keypad, you will receive a notification of a failed entry on your phone.
Smart home technology makes empty properties look occupied
The goal is that your Columbus rental property will have a steady flow of renters, but that isn't likely to always be the case. However, you need to make it seem that someone is home so your rental isn't an easy mark for thieves. Installing home automation into your property's security allows you to use smart light bulbs, motion detection equipment, and video cameras that make your rental seem occupied.
You can put your plan in motion by scheduling some lights to come on at specific hours of the day. You will also set your security app to warn you if your exterior cameras detect an intruder lurking around your perimeter or approaching your main entrance. You have the opportunity to employ the talk capability to make them aware that you can see them or program your lights to automatically come on when a camera or motion detection equipment uncovers suspicious activity.
Protect your Columbus rental property with 24/7 monitoring
Your occupants will have more peace of mind if they have protection from intruders, specifically when Columbus is unfamiliar territory. In the event a prowler attempts to invade your property, your home security system will not only initiate the alarm siren but will also ping your 24/7 monitoring professionals. Now, no matter where you are, assistance will be dispatched. Your monitoring specialists can even act as your point person and patch you in whenever you're available.
In addition to intrusions, your monitoring hub can be linked to fire alarms, flood sensors, and carbon monoxide sensors. It is likely to be upsetting for your guest if a water heater springs a leak or something catches fire. Not only will you be sent a cell phone notification that an urgent situation has occurred, but an agent can also coordinate help from emergency personnel while you're en route.
Get started with your new home security system in Columbus
The most sensible strategy to protect your Columbus rental property is to install a state-of-the-art home security system. Fortunately, Vivint provides popular choices like smart lights, smart entry locks, and 24/7 monitoring. Contact us today and our experienced team will design a package that's perfect for your Airbnb or rental property. Call (706) 770-6611 or complete the form today!